Another historical record withdrawal, JP Morgan had  an additional 321,500 oz  gold ounces removed from its vaults today.
Since last Thursday, JP Morgan has lost 44% (20 metric tons = 643,000 oz) of its gold inventories.


From the SRSRocco Report: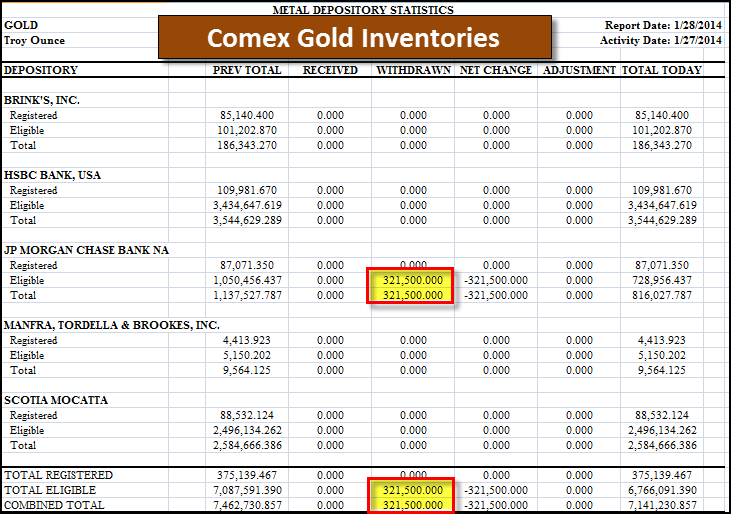 Here is the Comex inventory table for last Thursday: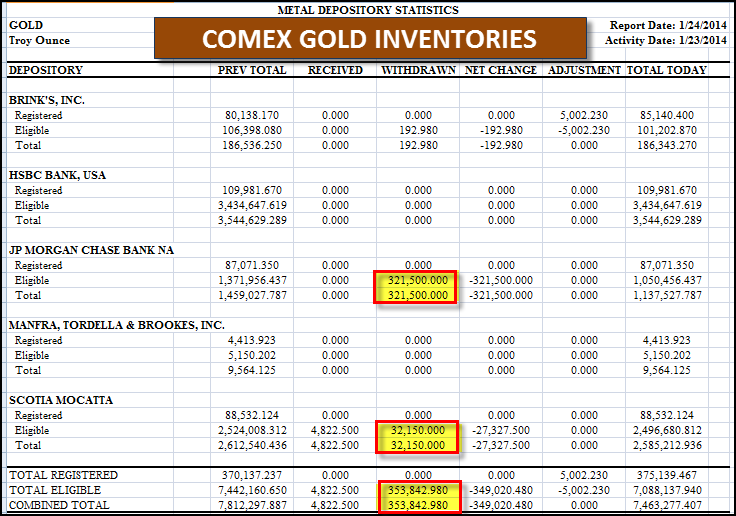 This enormous fall in Global forward hedging of Gold by the producers is keeping the LBMA and Bullion banks up at night with cold shivers. Quite simply the system requires a constant stream of new Gold feeding directly to them (through these contracts) at a guaranteed artificially low price. When the miners do not play ball we have problems, especially considering the East are gutting the West of all available physical Gold.  Mitch  - Silver Sufferer
For the full FT article read here..
Global gold hedging falls to 11-year low
By Xan Rice
Global gold hedging falls to 11-year low…The outstanding volume of gold sold forward by mining companies fell to its lowest level in at least 11 years during the third quarter of 2013. The global hedge book decreased by six tonnes to 92 tonnes, Société Générale and Thomson Reuters GFMS said in a report on Tuesday. That is the lowest level since 2002, when the quarterly hedge reporting series began. The marked-to-market value of the hedge book also fell, by $248m, to $174m, in the three months to the end of September. Some 25 companies saw reductions in their hedge positions over the quarter, mainly due to deliveries into maturing contracts. The pace of de-hedging slowed compared with the second quarter of last year. But while the gold price rose from July to the end of September, this "did not motivate widespread producer hedging, despite the fact that the opportunity existed for hedging at higher prices," the report noted.